JSC Ventspils Commercial Port berths
7 berths 1500 m long and 14.1 maximum draft
| Berth Nr. | 26c | 1-2 | 2-3 | 5 | 8 | 9 | 10 |
| --- | --- | --- | --- | --- | --- | --- | --- |
| Length (m) | 280 | 289 | 267 | 135 | 150 | 150 | 302 |
| Max. draft (m) | 9.8 | 11.5 | 14.1 | 7.0 | 10.2 | 10.2 | 11.8 |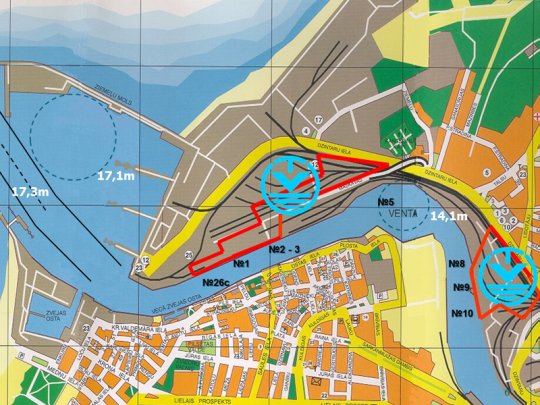 The area within red lines shows the VCP territory within the Ventspils Free Port jurisdiction, which encompasis 7 berths with a total length of 1500 meters. The maximum draft is 14,1 meters, which can accommodate Panamax type vessels with 82,000 carrying capacity and length of 240 meters.
The production complex PK-1 encompasses 154,159 m2 with the berths 1, 2, 3, 26c and includes closed warehouses, open bordered storage areas, as well as the administration building.
The production complex PK-2 encompasses 180,425 m2 with the berths 8, 9, and 10 and includes a number of storage facilities, such as, for rigging, metals, materials and technical supplies, repairs, welding, fuel, and equipment garages.